After many years of being involved in children's work and working with other children's workers we began to see the frustrations that go alongside this ministry, that of getting hold of certain materials and resources.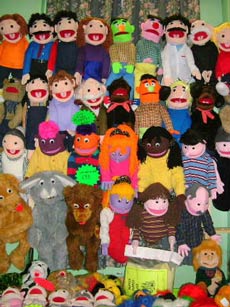 Out of this came Resources Unlimited, which has developed and now supplies craft materials and equipment, puppets and puppet theatres and lots more.
All money made from Resources Unlimited is put back into children's work, enabling us to purchase other equipment and resources, available for our use and that of other children's workers. It also goes to support children's and family projects, and finally to provide financial support for those who give their time to come and be involved in the different ministries of Kids-Inc.
Puppets available to buy by mail order.
If you live near Liverpool, you are welcome to visit our small shop where we have a selection of craft items and other resources. Contact us for details of our stock and location.
For any purchases please make cheques payable to
"Resources Unlimited"
Please contact us for postal address