Craft
Resources
Resources Unlimited also has for sale a large selection of craft materials and equipment suitable for children's workers.
These include, punches, Sissix and Sissix accessories, funky foam sheets and shapes as well as lots, lots more.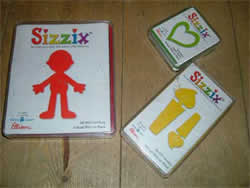 Sissex Cutters now £7, £8 & £10
SISSEX MACHINES now £69
We also have large educational cutting machines and so can produce a wide variety of cut shapes. These include boxes, bags, cards, people, Christian words, biblical figures and symbols, puppets, animals, bookmarks, door hangers as well as lots of others.
Assorted Craft Packs
Funky Foam A3 sheets 60p
Chenille pipe cleaners £3.00 per 100
Due to our large selection of craft materials we are unable to display these all on the web site at the moment. If you would like to know more about what we stock please do Email us. We can also offer advice on where to get other craft materials, or ideas
For any purchases please make cheques payable to
"Resources Unlimited"
Please contact us for postal address
If you are in the North West of England you can also visit our shop in Liverpool. Contact us for more details.